经历软起动器的演化 - Hannover Messe 2014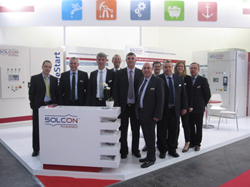 The response to the products we exhibited at Hannover Messe, one of the largest technology and industrial conferences in the world, was overwhelming!

During the show we launched the DriveStart, a brand new, first of its kind IGBT based Medium Voltage Soft Starter, presented the ProGear, our fully Type Tested Arc Resistant Medium Voltage Soft Starter Switchgear, and displayed the newly designed iStart, Solcon's flagship Low Voltage Softer Starter.

DriveStart - A revolutionary Medium Voltage starting solution optimized for applications that require a low starting current and/or a high starting torque. A cost effective solution for applications where only Medium Voltage Drives were applicable until now.

ProGear - Fully Type Tested Arc Resistant Medium Voltage Soft Starter Switchgear according to IEC 62271-200. Its advanced space saving design provides front, lateral and rear arc protection to prevent arc flash injury without compromising performance.

iStart - A complete Low Voltage Soft Starting Solution designed with you in mind. Easy to commission and simple to operate, its advanced features set it apart from other products in the market.

The show was a great opportunity for the Solcon team to meet our existing global partners, and also reach out to potential new clients. We were able to forge some great new strategic relationships and plant the seeds for potential partnerships.

To those of you who came by, thanks for making Hannover Messe a great success! We hope to see you again next year. The next innovations are already in the works!
---