世界上第一台中压功率控制器(调功器)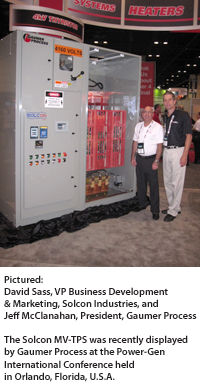 World's First Medium Voltage Thyristor Power Controller
November 30, 2013 - Solcon Industries introduced the world's 1st Medium Voltage Thyristor Power Controller (MV-TPS) at the PowerGen International Exhibition in Orlando Florida. The new patent pending,MV-TPS was featured by our customer, Gaumer Process, as an 'industry game-changer' for the control of medium voltage electric heaters.

The MV-TPS is used to control Gaumer Process 4160V electric heaters for oil & gas pipelines, boiler systems and other process applications. This heavy duty, digital, zero-crossing and/or phase control Power Control system is designed for all types of resistive loads (temperature control of heaters, etc.) at ratings up to 300A, and voltages from 4160-6600V.

Customers in the oil/gas, power generation, and other process industries will benefit from using the new MV-TPS Power Control. Until now, the use of solid state heater controls in the electric heating industry has been limited to low voltage systems. At medium voltage, switching contactors were the only viable control option. The new MV-TPS Solid State Power Control allows users to move from low voltage to medium voltage electric heaters. This means reduced cost, size and weight of the heaters. The advantages of the MV-TPS over traditional contactor control include optimal energizing of heating elements, precise heat control and system protection during operation, and long-term reliable operation.

For more information, contact the Solcon Sales team.
---