通过型式实验的软起动器柜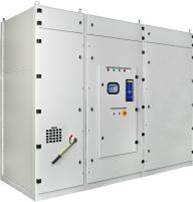 Type Tested Switchgears
October 30, 2013 - Solcon is proud to announce that its Medium Voltage Soft-Starter HRVS-DN cabinet has successfully passed the full set of Type Tests according to IEC standards confirming its position as a market leader with a safe, reliable modular cabinet design. The switchgear included a fully functional HRVS-DN system including 12kV ,1250A , 31.5kA Incoming with fixed circuit breaker, Soft Starter cubicle with 11kV 400A Solcon Soft Starter and 12kV 630A bypass contactor, and Outgoing with 12kV 630A 31.5kA disconnect switch.
The testing was conducted at the Research, Development and Testing National Institute for Electrical Engineering (ICMET) and included the following:
Internal Arc Test (31.5kA for 1 second – IAC: AFLR)
Short Time Withstand Current (31.5kA for 3 seconds)
Temperature Rise Test
Dielectric Test - 28kV/75kV
IP54 Protection Degree
"Solcon's Metal Enclosed cabinet design allows for a flexible configuration and is cost effective at the same time" explains Yuval Paz, VP Engineering & Projects at Solcon. "Compared with the Metal Clad designs currently available on the Market our cabinet design is both lean and resilient. Our modular cabinets are designed to withstand extreme conditions and passed the rigorous testing specified in the European standard accordingly."
The HRVS-DN, latest generation, Digital Medium Voltage Digital Soft Starter has been proven to be the best choice for starting Medium Voltage Asynchronous and Synchronous motors. Its sophisticated digital controller ensures smooth acceleration and deceleration with reduced in-rush current and mechanical torque shock.
---