Rugged Capabilities for any Industry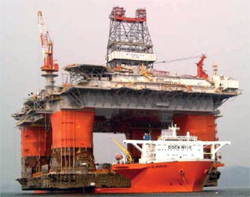 Product: HRVS-DN
Motor Ratings:
6600V, 4500KW
Blue Marlin
HHI Hyundai Heavy Industries
The Blue Marlin, refurbished by HHI (Hyundai Heavy Industries), was designed to carry heavy loads such as drilling rigs and other static floating objects.
The ship is equipped with 3 generators, rated at 3655KW, 6600V, 400A and 2 retractable thrusters rated at 4500KW, 6600V, 486A. The high power rating of the thrusters in relation to the three generators required that special attention be paid to starting-current and voltage-drop issues.
Some of the critical requirements were:
a. Limiting the starting current and the voltage drop to acceptable levels.
b. Ability to start the thrusters with only two of the three generators running.
After comparing the various available starting methods available (including auto-transformer starter, electronic soft starters and variabl frequency drives) it was decided that a Solcon HRVS-DN medium voltage soft starter would offer the optimum solution both technically and financially.
Two HRVS-DN soft starters were installed. Starting current is 360% of In and starting time is 12 sec. Voltage drop when starting the thruster with only two generators running is less than 5%. The application was a huge success.