Rugged Capabilities for any Industry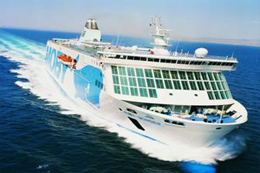 Product: RVS-DN
Motor Ratings:
1800A, 690V
Soft Starters for Passenger Vessels
Passenger vessels spend a lot of time maneuvering at dock while simultaneously ensuring passenger comfort. The high inrush current associated with motor starting would require oversized generating capabilities. When the marine architects and engineers were designing the Moby Wonder, they turned to Solcon for the most dependable soft-starter available to ensure continuous performance under intensive and adverse conditions of constant vibrations, temperature variations and corrosive environmental conditions.
Soft-starters on the bow thrusters eliminate the initial torque surge on the shaft, the voltage drop associated with starting large motors and reduce wear and tear from the mechanical system.
Marine engineers know to depend on Solcon when high quality and longevity in adverse conditions are paramount.