Rugged Capabilities for any Industry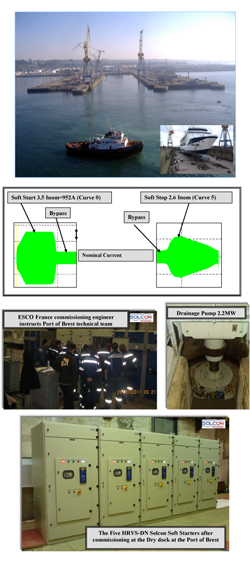 Product: HRVS-DN
Motor Ratings:
3 - 2,200kW, 5.5kV
2 - 370kW, 5.5kV
Port of Brest Dry Dock in France
The Brest dry dock came into service in 1905. With the arrival of ever larger vessels, this dry dock was only capable of taking a small number of vessels, others being sent to larger dry dock facilities.

Thanks to widening and modernization project that has been financed partly by the Brittany Region, the European Community and the Brest Chamber of Commerce, the dry dock usage was increased from 145 to 245 days of the year.

In 2011 ESCO France and the System Integrator (SNEF Group) requested from Solcon to supply five HRVS-DN Medium Voltage Soft Starters for starting, stopping and protection of the five pump motors that service the dry dock in the Port of Brest.

The technical requirement was to limit the starting current and torque during start and to prevent the water hammer effect during stop. In addition it was required to provide advanced electrical protection for the motors during operation.

The Solcon HRVS-DN Medium Voltage Soft Starters successfully provided all these requirements for this project, as in many similar projects Worldwide.

The starting of 2.2MW pumps was at 350% of FLA for 12 seconds.

The soft stop was applied in the application with standard setting of soft stop curve no.5 with deceleration time of 20 seconds and thus the water hammer effect was successfully prevented.