Rugged Capabilities for any Industry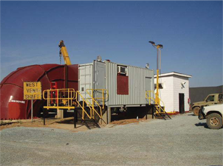 Product: HRVS-DN
Motor Ratings:
6600V, 1MW
Kahama Gold Mine
Tanzania
With nearly 1000 employees, the Kahama Gold Mine is considered to be Tanzania's largest underground mining investment. Solcon's HRVS-DN medium voltage soft starters were specified for controlling the fresh air ventilation fans in this massive underground mining venture.
Starting these four 1MW fans with a 6.6KV, 300A soft-starter
not only eliminates the high inrush current that disrupts the
power grid on every direct-on-line start, but it also allows for
constant monitoring of the fan's "vital signs" for preventative
maintenance purposes. This is accomplished via the advanced
motor protection system in the HRVS-DN soft starter.