Rugged Capabilities for any Industry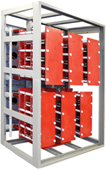 Product:
HRVS-DN MEGA
Motor Ratings:
10kV, 33,000HP
Shangai Motors Compressor Application
China
Solcon is proud to announce the successful implementation of a 33,000 HP, 10 kV Medium Voltage MEGA Soft Starter.

This 10 kV MEGA Soft Starter was delivered to Solcon's customer in China and fully commissioned in 2013. This MEGA Soft Starter is being used on a 33,000HP Shanghai Motors Compressor application. It utilizes a closed loop, encoder-based system to monitor motor speed and provide feedback to the Soft Starter for precise pressure control.

The MEGA HRVS-DN Starter incorporates Solcon's field proven Soft Starter Technology but in a BIG way…making it the ideal starting solution for VERY LARGE Medium Voltage Synchronous or Asynchronous motors. Never before has a solid state Soft Starter been used to start a motor this large.

Let Solcon help you with your MEGA motor starting needs today!