Rugged Capabilities for any Industry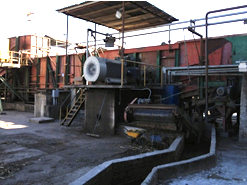 Product: HRVS-DN
Motor Ratings:
4.16kV, 400A
Central Azucarera Tempisque, S.A.
Costa Rica
Central Azucarera Tempisque, S.A. (CATSA) , a producer of sugars and alcohol in Costa Rica, has been powering their heavy duty cane shredder using old steam turbine power for many years. Operating this equipment, which is so critical to their process, had become extremely challenging in recent years due to the limitations of this method for generating power.

CATSA went in search of a cost effective way to overcome these limitations. They challenged Solcon to offer a solution which would manage the high starting torque and inertia of this critical application and give them increased productivity by reducing downtime. The Solcon solution was to provide a 400A, 4.16kV HRVS-DN Soft Starter ("all-in-one" model). It limits the starting current to 450% of Nominal current with a starting time of 37 seconds.

The ability to start and stop the cane shredder when needed significantly improved productivity. And, the added benefit of the full motor protection and metering that are standard features of the HRVS-DN Soft Starter give CATSA a solution that is a major improvement over their old steam turbine system!