Rugged Capabilities for any Industry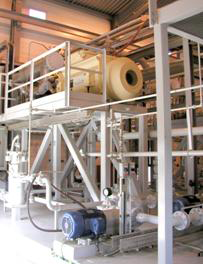 Product: HRVS-DN
Motor Ratings:
6kV, 2.6MW
Kopalnia Nafty Gazu Pjnig, Poland
In order to transport gas through a pipeline, the gas must first be liquefied in a process similar to that used by air conditioning compressors.

The Kopalnia Nafty Gazu Pjnig Company liquefies the gas at it's Barnowko oil transportation station using 2 Medium Voltage compressors soft started by Solcon's HRVS-DN.

These 2 soft starters rated for 250A at 6KV, reduce high inrush current on starting that would otherwise create system wide voltage drops while the compressor revs up to speed.

Solcon's state of the art digital technology soft starters allows for integral Motor Protection, ensuring that above and beyond the advantages of a soft start, the motor is protected from a wide variety of damaging faults such as phase loss, overload, under current, too many starts and voltage discrepancies to name just a few.