Rugged Capabilities for any Industry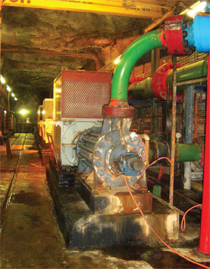 Product: HRVS-DN
1200 & 2100 meters below ground
Harmony Gold Mine
South Africa
The harsh environmental conditions and the high inrush current, directed the engineers at the Harmony Gold Mine towards a soft starting solution. When it came about to choose the correct soft-starter for a 2100 meters below ground level.
As the power grid was unstable, it was very important to eliminate the high inrush current and start-up torque on every start, and to ensure the ability to soft-stop these pumps in order to eliminate damaging water hammer that threatens the pipe joints and valves with every stop. Solcon's heavy duty Soft Starter, the HRVS-DN, was the perfect solution for this challenge.
In addition to the Soft starter's functionality to soft-start and soft-stop the motor, it also provide start and stop curves that increase the life expectancy of both the pumps and the piping infrastructure. The built in Motor Protection system and the additional motor protection relay provid comprehensive protection to both the motor and the Soft-Starter.